Coffee Mornings.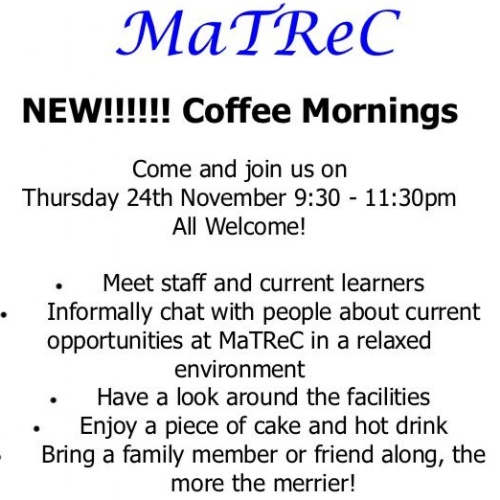 MaTReC New Coffee Mornings
MaTReC NEW!!!!!! Coffee Mornings
Come and join us on
Thursday 24th November 9:30 - 11:30pm All Welcome!
Meet staff and current learners Informally chat with people about current opportunities at MaTReC in a relaxed
environment
Have a look around the facilities
Enjoy a piece of cake and hot drink Bring a family member or friend along, the more the merrier!
Cakes and cupcakes will be available to purchase on the day, and a free hot drink will be provided with every purchase.
Manor Training & Resource Centre Ltd, 304-308 Prince of Wales Road, Sheffield, S2 1FF
Tel: 0114 2642194, Email: matrec@matrec.org.uk